Getting Started
Ultimate Guide to Starting an Ecommerce Business in South Africa
Launch, Build, and Grow a Profitable Online Store in 2023
Starting an Ecommerce Business in South Africa can be a great way to make some money on the internet, increase the turnover of your existing retail business or a starting point from which to grow an online retail empire.
Getting an e-commerce business off the ground is by no means easy and requires a lot of hard work. There are many steps required in order to get your online store up and running, this can often seem daunting, figuring out what tools are required and how they all fit together is hard work.
This guide will help make starting an ecommerce business that much easier, by providing a comprehensive breakdown of the steps you need to follow, as well as detailing all the tools required and how they fit together.
Whether you have an existing business or you want to sell your products online or if you've found a product that you think will be perfect to sell online
A quick chat about dropshipping.
Dropping shipping is an ecommerce business model where you don't own, store or handle any physical products yourself. Rather you rely on a third party who owns the inventory and ships the product when an order is placed on your online store leaving you to focus on marketing your store and handling customer service.
While dropshipping can be used as a cost-effective way to test out the demand for a product, we don't recommend you build an ecommerce business around the dropping shipping model. Many dropping shipping businesses are based in China, orders from these suppliers typically take months to arrive in South Africa. Profit margins on drop shipping are low and you're leaving fulfilment and delivery, a crucial part of the customer experience, in the hands of someone else.
Focusing on a product niche and buying inventory is a significantly better strategy for growing a sustainable eCommerce business in South Africa. By starting out with a narrow focus you'll be able to become the go-to expert in your product niche. This will put you in a position to answer any questions customers may have about your products. Product expertise will help equity for your brand and encourage customers to return when they need the products you sell.
Sellings on Ecommerce Platforms vs. Marketplaces
Each day millions of people log on to the internet with the intention of finding a product to buy.
In order to sell products to people on the internet, you need a store. Typically, there are two ways you can sell products to people in the real world you can either set up a store on the high street where you are responsible for everything that is required to run that store, from paying the rent, creating advertising campaigns to get people into your store and providing the staff and tools so customers can purchase items from you and pay for them.
Or you can set up a concession in a department store, where you are responsible for the products you sell, while the property maintenance, marketing to get people to come to the store and checkout are all handled by the owner of the department store.
There are two ways that this can be achieved, either by setting up your own ecommerce store or selling your products on a Marketplace platform.
Choosing Your Own Ecommerce Store Platform There are a vast number of ecommerce platforms available, each with their own unique selling points. We've narrowed down this huge selection to just a handful, based on their features sets, popularity and ensuring that they are suitable to the South African market. Ecommerce platforms fit into one of two categories: hosted or self-hosted.
Hosted ecommerce software
 is a turnkey solution that can be set up with just a few clicks and no technical skills are required. A hosted ecommerce platform is typically the best choice for the majority of online store owners. While these ecommerce platforms can't be customised to the same degree as self-hosted solutions they are still feature rich and are extensible through add-on apps. Hosted solutions are billed on a monthly basis and are typically more expensive however, you won't need to spend hours debugging server errors and can focus on marketing your store to potential customers and convincing them to purchase your products. With 
self-hosted ecommerce software
 you are responsible for installing the software on a server, managing the server and fixing any problems that may arise. The benefits of a self-hosted solution are that the total cost of running the platform is cheaper than what you would pay for a hosted solution and that self-hosted software is typically Open Source which allows you to significantly customise the shopping cart software to your needs. However, managing servers can sometimes be a burden and you may well find you spend a significant amount of time configuring options and fixing errors rather than growing your business.
Hosted Ecommerce Platforms
Shopify is the most popular online store builder and is used by ecommerce merchants of all sizes from billion dollar companies like 
Allbirds
 to niche ecommerce websites such as Cape Town based 
Cape Coffee Beans
. Out of the box they provide all the functionality to get up and running with an Online Store in South Africa. Shopify provides an App Store and a Theme Store so you can tailor your online store to your needs. Shopify starts at $29 per month and their basic plan is a cost-effective way to get your online store up and running quickly. However, be aware as you start to grow and customise your store with additional app monthly fees can quickly rack up.
Self-Hosted Ecommerce Platforms
WooCommerce is the world's most popular ecommerce platform. It is a free plugin that is installed on top of Wordpress and enables the blogging platform to become a fully functional online store. WooCommerce offers a large selection of both free and paid extensions to help you customise your store and can be easily installed through Wordpress. Since WooCommerce is an open source project you can customise the code and adapt the ecommerce platform to your needs. Being based on top of a blogging platform means WooCommerce isn't as slick and well designed as Shopify but, it's a very cheap way to launch an online store and test the demand for your products. You can install the software on your own server and be up and running within an hour or so. Alternatively, hosting companies such as 
Bluehost
 offer WooCommerce hosting starting at less than R60 per month with no transaction fees. These providers have automated the entire process of installing the WooCommerce platform eliminating the technical burden that comes with installing open-source software and managing servers.
Magento is an open-source ecommerce platform that is exceptionally powerful and extensible and is best for established retailers or large ecommerce sites. Magento comes with a steep learning curve and typically requires a full-time PHP developer to install and customise. The exceptional extensibility of the platform enables businesses to create amazing user experiences and customise the backend to their unique business process requirements. However, this flexibility comes at a cost requiring lots of configuration prior to launch and optimised servers to run the ecommerce software. Magento is only recommended for businesses who are willing to invest time and financial resources for the skills required to deploy this beast of an ecommerce platform. You can install Magento on your own server alternatively, Siteground offers an entry-level Magento Hosting Package with a one-click install for less than R60 per month. This is a great way to gain an understanding of how the platform works. For a production-ready online store, Nexcess offers cloud and dedicated servers that have been optimised for Magento.
Order Fulfillment and Shipping
Selling products online does not end once the customer has completed checkout and paid for their order. The fulfilment and delivery experience plays a crucial role in how satisfied a customer will be with your ecommerce store. Moving physical goods from your warehouse to a customer's location is no easy feat and many problems can arise. The key to ensuring happy customers is to be transparent and keep them informed through every step in the delivery process. The delivery experience starts before a customer completes a purchase. Clearly displaying the lead time of the item, the delivery methods available and how long it will take for an order to be delivered will bolster a customer's trust and help manage expectations.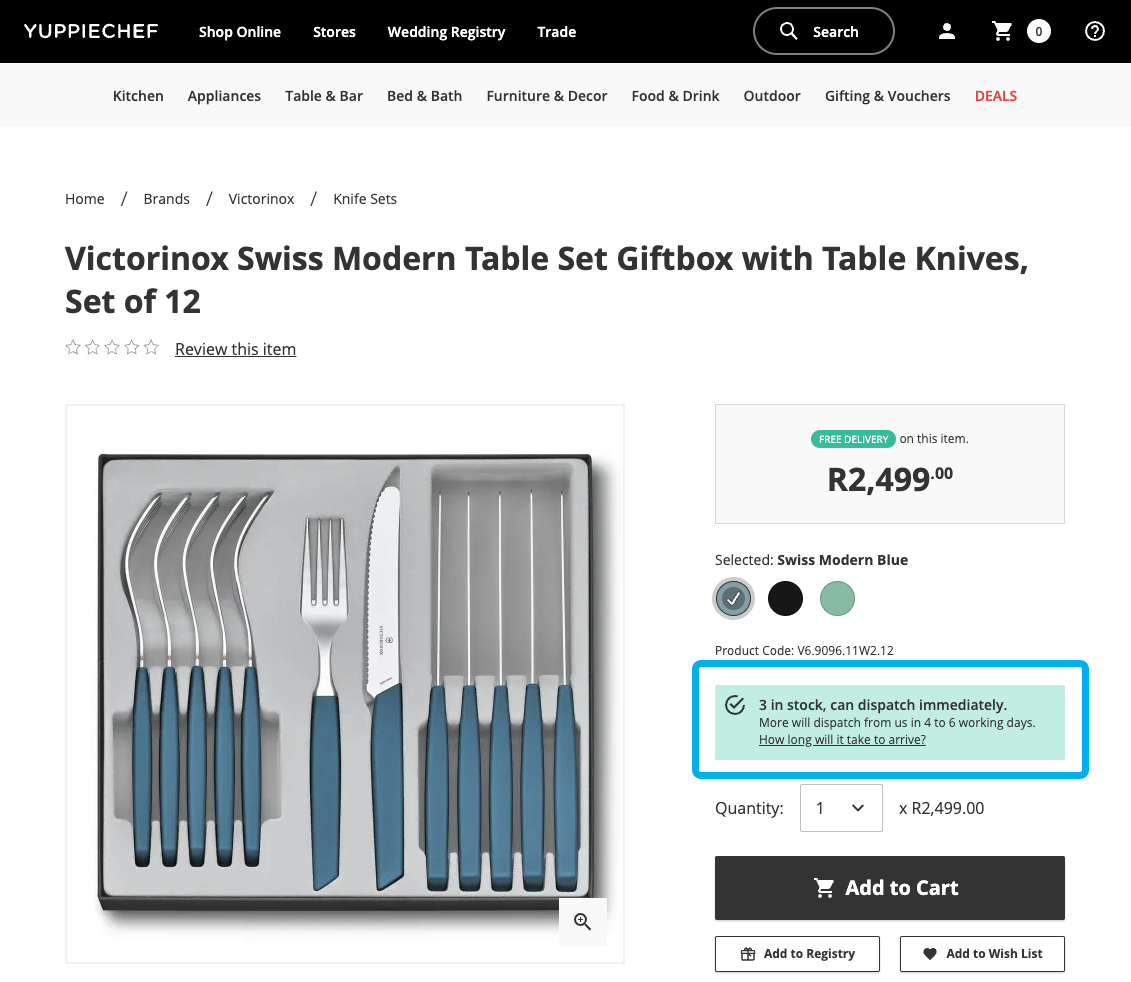 Yuppiechef
 does a very good job of informing customers how long items will take to reach them. They display the quantity that is in stock, the lead time for additional units and a link to a page that provides detailed information on how long the courier will take to deliver to you based on your location. Once an order has been handed over for delivery, customers should be emailed the tracking information along with information on whom to contact should any issues arise.
Delivery Services
There are a large number of delivery options available for ecommerce businesses in South Africa. Ecommerce delivery services are typically charged based on a combination of three factors: the greater of either the volumetric weight of an item or the weight in kilograms of an item, the item's destination address and speed at which the item should be delivered. Volumetric weight is the calculation of the amount of physical space a parcel takes up. The more space a parcel takes up the more expensive the delivery charges are going to be. To calculate volumetric weight couriers use:
volumetric weight = length x width x height (cm) / 5000
Some couriers use a divisor of 4000
Courier companies will also charge more for delivery to areas outside major metropolitan areas. Delivery to these outlying and rural areas can be very expensive and in some cases it may be worth charging customers who live in these areas an additional amount for delivery in order to cover the additional delivery costs. The faster a customer receives an order from your online store the more satisfied they are going to be. Standard delivery in South African typically takes 2 to 3 working days, whereas Overnight delivery happens within 24 hours. Having an item delivered overnight by a courier company in South Africa typically costs well over R100 for 2kgs. While faster delivery times are always preferable to customers, it may not make sense for your ecommerce business to absorb these delivery costs. However, providing the option for a customer to pay an additional amount for overnight shipping at checkout will boost your conversion rate amongst customers who need their products quickly.
South Africa Post Office
Delivering orders via the South African Post Office will be the cheapest option for shipping in South Africa. Rates are solely based on weight and not affected by a parcel's destination. Meaning you can send a 1kg parcel to Durban or a 1kg parcel to Springbok and it will cost the same. However, based on the historical performance of the Post Office it is not recommended. The Post Office's services are only counter to counter and collection notifications don't often arrive in your post box and the online tracking is either broken or doesn't reflect the actual status of the shipment.
Courier Services
The majority of ecommerce deliveries in South Africa happen via door to door courier services. Couriers play a crucial part in how customers experience your brand. While the actions of a courier may be fully outside of your control, late deliveries will reflect poorly on your business and continued delivery mishaps can result in many emails to your customer support. There are a large number of courier companies offering ecommerce delivery. Choosing a courier should not be based on cost alone, you need to engage with them regarding the particular needs of your ecommerce businesses, understand their service offering and who is the person you can contact when a problem arises. Some of the most popular courier companies in South Africa. (in no particular order)
Multi-Carrier Shipping Software
uAfrica
Click and Collect
Customer Support
coming soon